News from Juli 14, 2021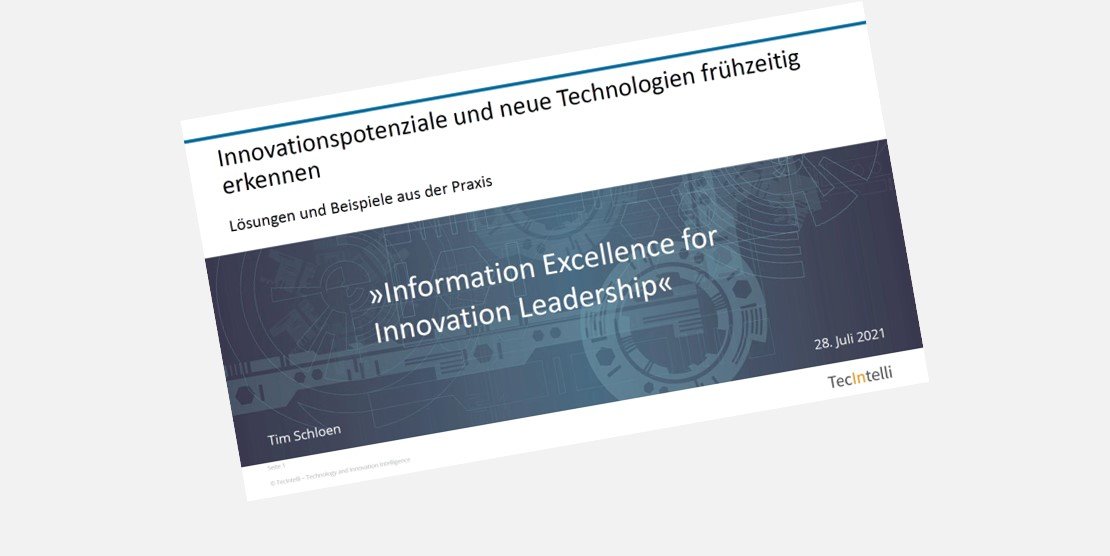 Online seminar: Smart Innovation
Lecture "Recognizing innovation potential and new technologies at an early stage - solutions and examples from practice"
as part of the Fraunhofer seminar: Smart Innovation - How to increase the innovation and competitiveness of your company with Artificial Intelligence 
On July 28, 2021, a seminar organized by Fraunhofer IAO will take place on the topic of smart innovation. With it are:
Prof. Joachim Warschat from Fraunhofer IAO – he introduces the topic of Smart Innovation with NLP and shows what is already possible today with the help of application examples..
Lukas Keicher from Institute of Human Factors and Technology Management IAT of University of Stuttgart – he presents how to systematically and analytically identify new business ideas with NLP using the business model detector.
Tim Schloen, Co-Gründer of TecIntelli and leader of business unit Smart Scouting – he uses solutions and practical examples to show how AI and NLP can be used to identify innovation potential and new technologies at an early stage.
Stefan Geißler from Kairntech – using the Sherpa platform, he explains how AI and machine learning can already support research and analysis processes in the background.
For more information on the event, please visit the event page.
Tim, you are one of the pioneers of Smart Scouting and Smart Innovation. Can you tell us in a few sentences what that means?
A good 15 years ago, we started using professional text mining software to analyze large volumes of data specifically for information that companies or scientific institutions need, for example, as part of their early technology detection. How do you find alternative technological solutions? How do you find new applications for a technology? The art was, and still is, to create the appropriate algorithms, to develop the right search and analysis strategy. In recent years, a lot has happened in terms of software technology. Today, for example, we also use AI or ML solutions to support the complex searches, automate information processes.
What awaits us in your presentation?
In essence, I will explain the process of Smart Scouting using a procedure we have developed. Essentially, there are only three steps. It starts with identifying the information requirements and mapping them in a search strategy. One challenge here is the aggregation and structuring of relevant specialist terms in the form of an individual specialist thesaurus. Here we also use ML methods, for example. On the basis of this search strategy, the actual semantic information extraction takes place. Depending on the task, relevant data sources are integrated and analyzed accordingly. The third step involves the provision and visualization of information, for example in the form of technology profiles or as a radar or map. So that all this is not so theoretical, I will explain the individual steps using examples and experiences from our practice.
By the way, if you can't attend the seminar, no problem, we will offer similar formats in fall 2021. Feel free to contact us!
Tim, thanks for the brief insight.