News from Februar 2, 2022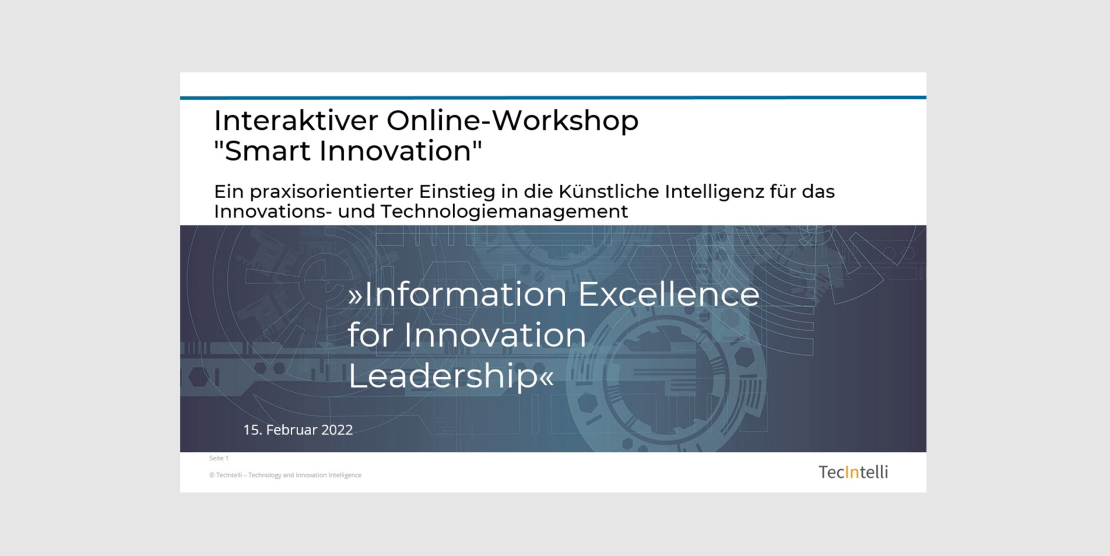 Interactive online workshop "Smart Innovation" 
Finding innovation potentials and new technologies - A practice-oriented introduction to artificial intelligence for innovation and technology management
As a supplement to our online events "Smart Innovation - How to increase the innovation and competitiveness of your company with artificial intelligence" from July and November 2021, we will show the concrete use of selected tools and software tools in our online workshop on February 15, 2022. The workshop will again be held in cooperation with the Chambers of Industry and Commerce of Baden-Württemberg. 
On February 15, 2021, the experts will include:
Lukas Keicher – Institute of Human Factors and Technology Management IAT of University of Stuttgart, research associate in the Technology and Innovation Management team.
Tim Schloen – Co-Founder of TecIntelli GmbH, a specialist in Technology and Innovation Intelligence, focusing on the use of AI and NLP in technology and innovation management..
Stefan Geißler – Co-Founder of Kairntech, a French-German software specialist in the field of enterprise applications on Artificial Intelligence and Natural Language Processing.
Further information about the event as well as the registration can be found on the event page.
The event is free of charge and is aimed in particular at corporate management, technology and innovation management, product management, R&D management, business development and all those who want to learn about the potential of smart innovation.
Contents and modules of the workshop
1. Overview
Introduction to the overall process of AI-based information research Initial questions and types of results
2. Define search strategy - map subject domain
How to build a search strategy?
Structuring and collection of terms on the basis of an application example
3. Select content
Find the right content type for the corresponding question
Access to content (e.g. open access specialized content)
4. Software support - annotating and understanding texts
Use of so-called symbolic (rule-based) AI 
Use of so-called subsymbolic AI (machine learning) 
5. Results preparation and presentation
List with annotated texts
Technology profiles
Power BI Dashboards
6. What is the next step? Integration of the information found into the innovation process
Prioritization and decision criteria
Persons involved, roles, decision makers
Further steps such as selection, tests and in-depth research